Monday May 29, 2023 main performance starts at Noon
Cash only for entry fees. NO CHECKS!
Slack starts at 8 am with Team Roping
Barrel Racing Slack will not start before 9 am. Be ready to run at 9 am (be entered and saddled) as slack could start prompty at 9 am
Entry fees for the following events are $35 with a one time office fee of $5:
Barrel Racing (3D or 4D based upon number of entries to be determined and will be announced with the draw)
3D Pole Bending
Steer Wrestling
Breakaway Roping
Calf Roping
Team Roping * (fee per person). May enter up to 4 times. Top 12 return to performance
Call In's: Monday, May 22nd
6-9 p.m.
717-752-5004
Must talk to someone. No messages or texts!
Bull Riding $500 added. SEBRA sanctioned event
Text to Enter (336)669-8076 on Monday 5/22/2023 between 12 Noon & 6 p.m.
20 riders
EF- $50 members
$60 non-members
Non-members under 18 must have a permit application notarized and application can be found at gosebra.com
$5 office fee
Bull Rider Call in info: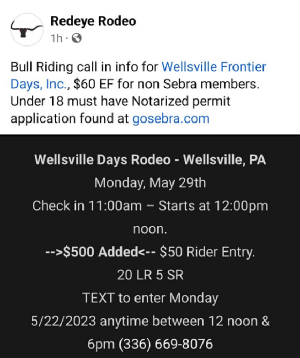 Rodeo is being produced by Red Eye Rodeo Company
Once draw is posted there will be no changes!!